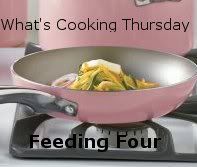 The weather here in the UP of MI sure has taken a drastic change. It went from being in the high 70s last week to being just over freezing. So with the change of weather is a change in cooking. Lets start with baking, I made this and a few more just like it at work today.
I was pretty disappointed when I cut it opened to find such huge air pockets.
The other day I pulled a huge package of chicken wings from the freezer that I bought on a HUGE sale. I am a very squeamish person when it comes to cooking chicken on the bone. For the record, DH thought I would just see the chicken juice and pitch it all in the trash, but NO, I am on a BIGGGG frugal mission lately. Throwing the chicken in the trash pail would be like throwing money down the drain. I turned the crock pot on high, sprayed it with cooking spray and dumped the entire package in and let it be for about 4 hours. The children kept asking what the yummy smell was. They each ate three entire wings; and that was after dinner and they were full.
This is a picture of what chicken wings I have left. We will have them over the weekend with BBQ sauce.